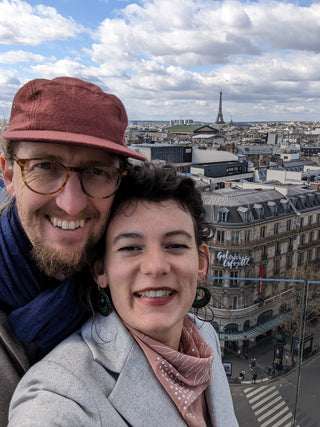 About us
SVEN Ceramics is an entirely collaborative business comprised of the two of us, Sven and Mallie. We started the business in 2015, and have been making handmade pottery together for the past 8 years. We have made custom work for many cafes and restaurants across the world, and have recently been focusing on our more artistic line of bespoke pieces.
We love cooking, eating, traveling, listening to copious amounts of audiobooks (fantasy, mystery, sci-fi, historical fiction), and exploring our city on electric bikes!
Up until now, we've been making all of our work in our cozy backyard studio. But we're busy working on getting a dedicated brick and mortar to share with other artists!
An Update: Expansion on Pause
I know many of you already know about this, but Sven had a bad fall a little over a month ago. He had bad facial damage, as well as a concussion. We are so happy to be out of the worst of it, and he is on the road to healing and health again. He's doing a little better every day, and when you look at him you almost wouldn't know anything had happened anymore! But the concussion is a longer journey, and we're still navigating what he's capable of and what is still too much for him right now.
What this means for us: we've had to slow things down significantly with the business, and put our dreams of the brick and mortar on hold. Thank you so much to everyone who supported us in our fundraising for the new place and the the new kiln, we so appreciate you!! All the funds we raised went towards our final payment for our Blaauw kiln, and we are so looking forward to having it. We felt so supported by you all, and your enthusiasm for the next phase of our journey. We'll definitely still be getting a place at some point, just when things are more solid again.
We're going to be going towards a big Spring/Summer Collection Release in July, and then we're going to be taking some time to rest and recover. We'll be coming back strong for our Winter Collection though!
We are so incredibly grateful for our community, and for everyone who supported us in our fundraising, and for all the many many kind and loving messages we got for Sven's safe recovery. We thank you, and we send you our love! 
July 7th, 2023