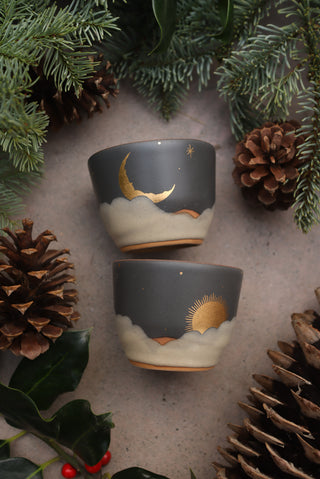 Introducing
The Holiday Collection
With the Changing Seasons, a New Palette
In this season of shorter days and changing leaves, we look forward to the cozy things that make this season festive. Inspired by that feeling of a warm mug in your hands on a crisp chill day, crunching through fallen leaves, we created an Autumn colorway palette to reflect it.
Toast
Toast is a warm brown with lovely flecks of a dark brown giving it depth and character. Its a colorway you could just eat if you could!
Maple
A rich syrupy brown, Maple is Toast's more saturated sibling. They are the same tone, it's just the deeper version. The two pair excellently.
Cashmere
An understated pairing of neutrals, Cashmere has all the coziness and timeless style of it's namesake. It's a colorway to curl up into.
Midnight
Last year's favorite colorway is back! A lovely velvety dark grey, Midnight is a gloomy classic.
Desert
Speaking of classics... Desert is one of our original colorways, and it's been quite a while since we've been able to bring it back. We are most delighted to have fixed the glaze issues that last plagued it, and have it make a comeback!